iBird Pro 2.2.1 (Android)
Overview: Bird by Bird installer vastly simplifies installation with download manager for sounds, illustrations and photos. Can sync over any kind of network but WIFI is recommended.

Requirements: Android 1.6 and up

Market Update Released: August 2, 2012

Price: $4.99
iBird Pro by Mitch Waite Group – Macworld's best ref app 2009


iBIRD PRO 2.2 UPDATE! – New installer simplifies database downloading, search tutorial explains how to use the search engine to ID birds like an expert plus new photos, species, illustrations and much more. Be sure to see the incredible composite drawings.


NEW iBIRD PRO 2.2 BACK TO SCHOOL SALE – Price reduced from $9.99 to $4.99 for a limited time.


IT DOESN'T GET MUCH BETTER – IBIRD PRO RECOMMENDED BY SCIENTIFIC AMERICAN MAGAZINE IN AUG 2012 ISSUE, PG 84.


BEFORE YOU BUY ANY BIRD APP See how 5 most popular birding apps stack up


IBIRD PRO 2011 BEST APP EVER AWARD WINNER


148 NEW AUDIO CALLS FROM THE MACAULAY LIBRARY AT THE CORNELL LAB OF ORNITHOLOGY


353 BRAND NEW LANDSCAPE MODE PHOTOS


NEW VIEW MODE FEATURE: SEE LISTS IN COMPACT, ICON, THUMBNAIL AND GALLERY FORMAT


NEW FEATURES OF IBIRD PRO VERSION 2.2


All screens optimized for tablets – illustrations, photos and range maps fill the screen.


Audio bird songs and calls from the Macaulay Library at the Lab of Ornithology.



iBird Pro: Macworld's best reference app of 2009 comes to Android. Covers 926 species of North America, over 1000 drawings, 2500 photos, 5 hours of song recordings from the Cornell Ornithology Lab. In depth descriptions, search engine to ID birds by color, shape, habitat, and more plus color range maps & lifetime updates.

No Internet connection required. Even includes the extinct Ivory-billed Woodpecker.
Only uses 13MB of RAM; entire 500MB database fits on SD Card or SD storage RAM.

Notable features of this version 2.2 of iBird are:


Illustrations, Photos and Maps are full HD 576 x 720p resolution


Attributes are grouped into basic, head and flight related areas


Updated state and province bird lists using official references


Taxonomic and Alphabetical family sort options on Browse screen



Standard Features:


Playing bird songs and calls lets you to attract birds right to your device for easier identification, clearer photographs and more enjoyment (1)


Icon-driven search engine, enables you to identify birds using shape, color, location, habitat, head pattern, flight pattern, bill shape, length and more


Hand-drawn full sized color illustrations, with perching and flight views


Multiple professional photographs of most species, showing plumages, sexes and seasons


Extensive identification, behavior, and habitat information, including diet, egg color and much more


Full color range maps for every species


Zoom and pinch bird portraits, for viewing fine detail


Links to Flickr photos and detailed Wiki pages for each bird


Bookmark birds as favorites for fast access


Species, common and family names in English, French and Spanish (text is English)


Includes band codes



■ Lifetime updates to bird information
You can also keep up to date with other iBird users by following @iBird on Twitter and by joining the iBird fan page on Facebook (search for iBird).

Notes


If you use iBird in the field, please do so responsibly. We recommend the American Birding Association's Code of Ethics , particularly section 1(b), for guidance.


The database of bird illustrations, photos and sounds is downloaded from our server so before installing iBird please make sure you are on a fast WIFI connection. A cellular connection will general be too slow.



What's in iBird Pro v2.2.1:


NEW iBIRD PRO 2.2 BACK TO SCHOOL SALE – Price reduced from $9.99 to $4.99 for a limited time.


IBIRD PRO 2011 BEST APP EVER AWARD WINNER


148 NEW AUDIO CALLS FROM THE MACAULAY LIBRARY AT THE CORNELL LAB OF ORNITHOLOGY


353 BRAND NEW LANDSCAPE MODE PHOTOS


NEW VIEW MODE FEATURE: SEE LISTS IN COMPACT, ICON, THUMBNAIL AND GALLERY FORMAT


VISIT THE IBIRD WEB SITE and learn what is new.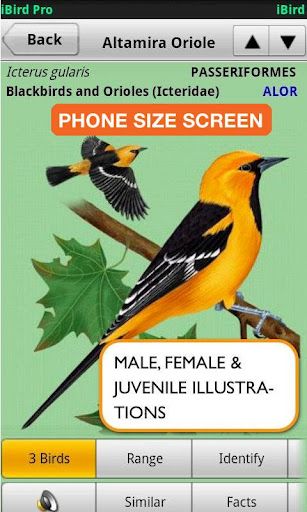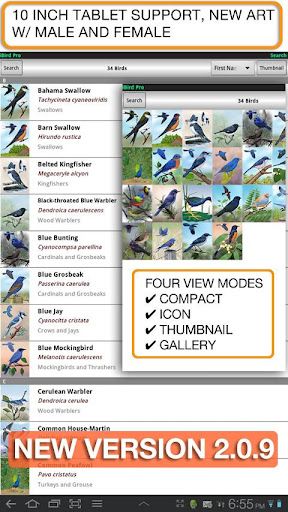 Topandfreedroid.blogspot.com Download Android Market Apps
https://play.google.com/store/apps/details?id=com.whatbird.pro
Download iBird Pro 2.2.1 (Android)
Topandfreedroid.blogspot.com Download Android Market Apps
http://ul.to/d5u34ilg/ibPro.2.2.1.Android.zip
http://rapidapk.com/32ruy8f7sqpy/ibPro.2.2.1.Android.zip
http://www.MegaShare.com/4438540
Android Market
|
Android Apps
|
Android Apk Files